Sometime back when I was at a book shop and had wanted a little dose of motivation, I scanned through some self-help books. A small book lying on a rack in the centre caught my attention. I wondered "what could this be about, and how could you do it?" It was a book titled "Measure Your Cat's IQ". Seriously, yes!
I picked up the book and flipped through its pages and the first line read "So, you want to know what your cat's IQ is like?"
Well, to be honest it's not me who wants to know but it's the book that wants to tell me. Anyway, I continued reading further. There was a questionnaire with four or five options and you need to answer them. Once finished, you need to calculate the responses and look at how your cat scored. Good heavens, there are so many things on this earth and even a book like this one. I need to up my IQ, it seems.
I went through the questionnaire and some of them read like "Does your cat keep its tail flat on floor when eating?" "Does he enjoy being touched around the neck, back and face?" "Does your cat persuade you to get out of bed early to fix him breakfast?" and more questions based on observation and activities of a cat.
Suddenly, I thought about a tabby cat that I know of. Beaming with ideas, I came home and decided to put the cat under the IQ test. So, for full one week I observed the cat, started taking its pictures and making videos. Finally I had so many pictures and videos on phone, it seemed like my phone belonged to the cat. Well, to be honest this activity increased my love for this cat and I decided not to judge it. But then I put the videos and pictures to a very good use making some funny gif images which you can see below.
And here is the funny gif I created. Have fun!
Does your cat pull on strings hanging from anywhere?

Does he protect the house from enemies?

Is your cat able to follow moving objects with his eyes only, without moving his body?

Does he play on its own ?

Pull a piece of string across the floor in front of your cat. What does he do?

Give him a soft cushion sheet and how he behaves?

Now, its time for the result.
And guess what?
This cat is not dim but a living Einstein! Wow!!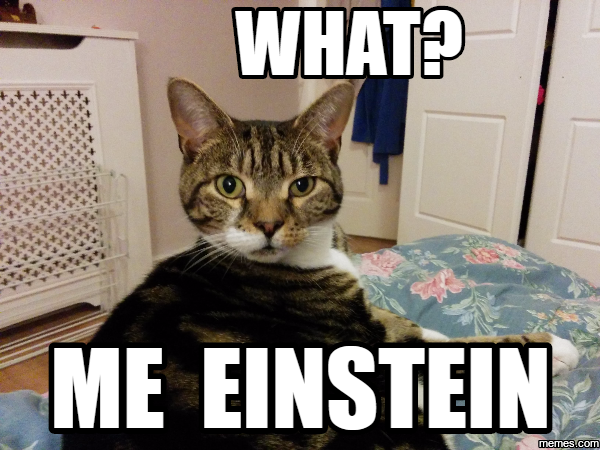 PS: BIG Thank You to our friends for letting their cat spare some time with me 😉